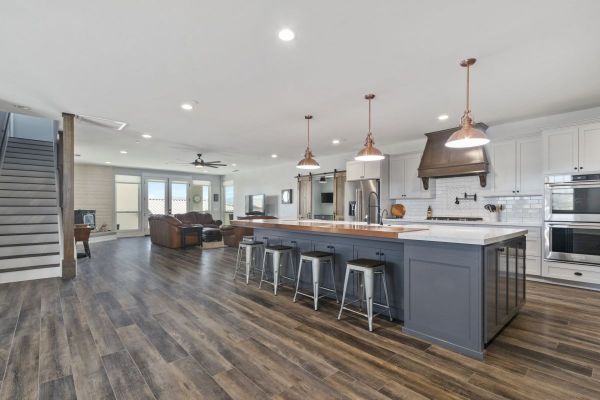 Custom Home Builder
You're looking for a custom home builder to help you with your next project?
Whether you are building from the dirt up or remodeling your home, Rob Potter's dedicated, detail-oriented team is committed to bringing your vision to life. We have the experience and expertise to take on any type of custom home building project. Our level of craftsmanship is unmatched in this industry. It doesn't matter what type of material or design you want - we will work with you every step of the way to make sure that your vision becomes reality.
In addition to our expert level of craftsmanship and 21 years of industry experience, we are dedicated to getting acquainted with each and every one of our customers. We bring a unique blend of professionalism and expertise, making Rob Potter the ideal custom home builder for your project.
You can count on us to provide the best quality, outstanding service, and value in the industry. Our team of experienced craftsmen, lead by Rob Potter, will work with you to design your custom dream home or remodel your current one.
Our goal is always 100% customer satisfaction so if there are any issues during construction, we will work with you to fix them! No other company offers such a guarantee. Let us show you why RJ Potter Construction has been voted the best custom builder in town year after year!
Custom Home Builder & Design
For two decades RJ Potter has been building homes in the area and knows what it takes to make your dream come true. We work with architects and designers to help create your vision so that we can ensure that every detail of your project is perfect. In other words, we do all phases of the home building project, no matter how big or small the job may be, we will take care of it!
RJ Potter and his team are committed to providing the best service and quality workmanship at competitive prices. Our team of professionals will ensure your project is completed on time, within budget, and with the utmost attention to detail.
We've been building custom homes for more than 21 years and have earned a reputation as one of the best builders in Paso Robles and the Central Coast because of our personal approach to every new construction project. We understand that building a home is about more than putting up walls, which is why we approach every phase with acute attention to detail and quality.
You won't find another builder like us who takes such pride in their work or offers such personalized service at any price point. You deserve nothing but the best when it comes to building your new home.
Let's get started on making this happen together! Give Rob Potter a call today at 805-237-0817
or get a free quote for more information about our services and pricing options available!